Start your journey with us......
Welcome undergraduate & postgraduate students, potential students, parents, and the public, to the Faculty of Medicine and Health Sciences (FMHS), UNIMAS website. The faculty is situated close to Kuching city, the capital of Sarawak. We strive to provide our students and the public a succinct yet precise information regarding FMHS through this website.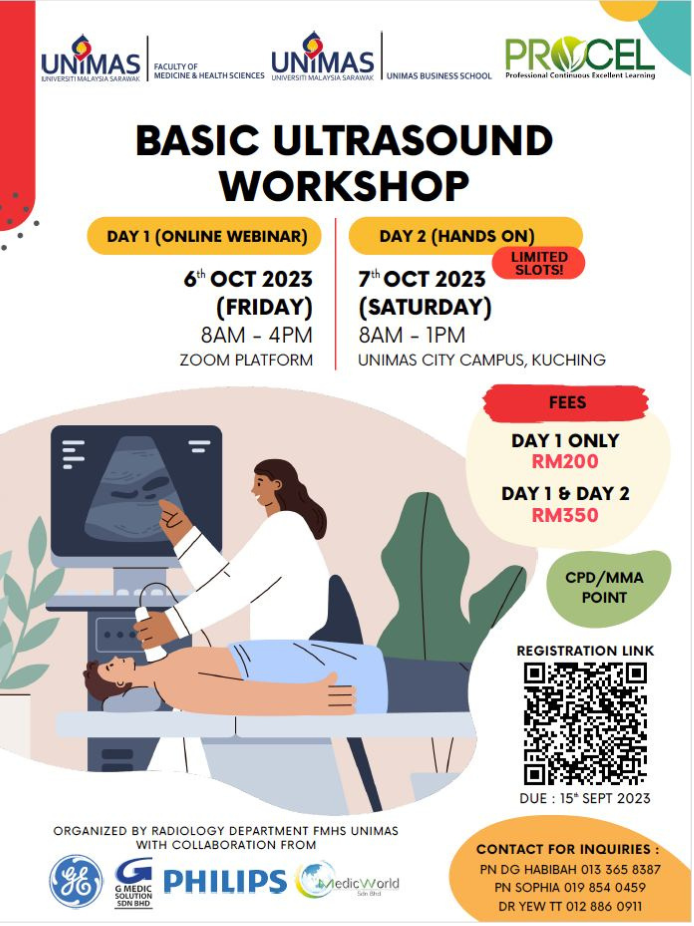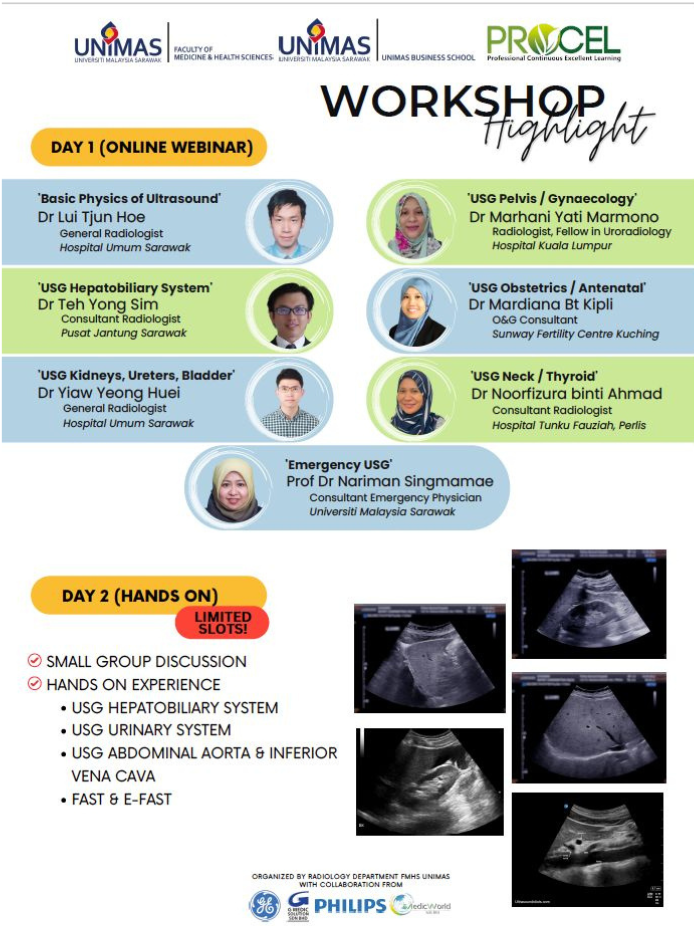 UNIMAS Basic Ultrasound Workshop 2023
Organised By:
Department of Radiology, Faculty of Medicine & Health Sciences, UNIMAS
in collaboration with GE Healthcare G Medic Solution Sdn Bhd and PHILIPS MedicWorld Sdn Bhd
Date & Time
6th Oct 2023 (Fri)
8.00 AM – 4.00 PM
(Online Webinar via Zoom Platform)
7th Oct 2023 (Sat)
8.00am - 1.00pm
(Hands-on Ultrasound in UNIMAS City Campus)
What you will learn
This workshop aims to provide primary healthcare providers with the basic principles and practical applications of ultrasound.
Registration Link
https://forms.gle/BmsRRqDvrVe8Q3KS6
Fees
RM200 for Day 1 only (Online Webinar) - (No Limit in the numbers of participants)
RM 350 for Day 1 AND Day 2 (Limited to 25 participants, first come first serve basis)
Fees payable to:
UNIMAS Edu Sdn. Bhd.
Maybank 561239608898 (IBG only)
For more info, please contact
0133658387 Pn Dg Habibah
0198540459 Pn Sophia
0128860911 Dr Yew
https://news.unimas.my/.../unimas-basic-ultrasound...
Student Welfare
Refers to the support and services provided to promote the well-being, welfare, and holistic development of students within an educational institution. It involves addressing the various needs and concerns of students to ensure their overall welfare and enhance their educational experience.
Click Here
The Psychology and Counseling Unit
The Psychology and Counseling Unit plays a vital role in supporting the well-being and mental health of students at UNIMAS. The certified counselors provide professional counseling services to assist students in addressing personal, emotional, and academic challenges. The unit may offer individual counseling sessions, group counseling, workshops, and other programs aimed at promoting mental health, resilience, and personal development among students.
Click Here
Faculty of Medicine and Health Sciences
Universiti Malaysia Sarawak
94300 Kota Samarahan
Sarawak

Main Office Operating Hours :
8.00am - 1.00pm, 2.00pm - 5.00pm (Monday - Thursday)
8.00am - 12.00pm, 2.30pm - 5.00pm (Friday)